Boulder Junction Community Center
5392 Park Street (Hwy M), Boulder Junction, WI
The White Deer Triathlon Committee is moving forward with a 2021 event. The safety of our race participants and volunteers is top of mind, therefore, all planning is being done with COVID-19 safety guidelines in place. This year we are changing to a duathlon format. The reason for this is that we are required to obtain an event permit from the Wisconsin Department of Natural Resources to use the boat landing and any part of the bike trail/forest trail properties. They currently permit a maximum of 50 people, which would include participants and volunteers.  With the time needed to plan the event, we are not confident we will be able to obtain one in a timely fashion, if at all, for our race capping, this year, at 200 participants.
The White Deer Duathlon consists of a 6.5-kilometer run, 22-kilometer bike and 2-kilometer run on Boulder Junction's paved and scenic country roads. The start line, transition and finish line will all be staged at the Boulder Junction Community Center. Registration is open to individuals and two-person relay teams. The cost to participate is $85 for an individual or $170 for a two-person relay team. All racers will receive short sleeved performance T-shirt, participation medal, goodie bags and bagged lunch.
Contact: Boulder Junction Chamber of Commerce, 715-385-2400 or www.whitedeertriathlon.com
W.S. Carow Park
County Highway J, Mercer, WI
Ride 10, 28, or 50 miles on paved roads by lakes and rivers, through miles of blooming Lupines, or take a shorter out-and-back ride on Mercer's new paved bike trail, and enjoy the Mercer Bird Festival featuring demonstrations, educational booths and guided bird hikes. Registration includes a T-shirt, goodie bag, snacks, and lunch ticket. Contact: Mercer Area Chamber of Commerce, 715-476-2389 or www.lupinejunefest.org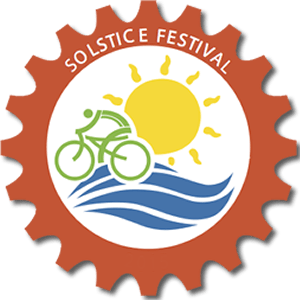 Rest Lake Park
Hwy W, Manitowish Waters, WI
The Solstice Festival celebrates the longest day of the year and is the official start to the summer cycling season in Manitowish Waters. Join the excitement and camaraderie of the Fun Paved Trail Ride, one of the longer road rides: 29 mile Cranberry Ride, 50 mile Half-Century Ride and 100 mile Century Ride, or give the new loop ride a whirl: 15 mile Buswell Loop Ride.
Whether preparing for a week-long tour or charity ride, training for a summer of competitive racing, or simply getting the family out for an organized ride, the Solstice Festival has perfect courses and activities to offer. After a day in the saddle, stick around for a party in the park, featuring live music, food, drinks and more.
Friday, June 18 from 3pm to 7pm: Register, pick up your swag bag, meet other riders and head out on the Sunset Ride to River's Edge Outfitters for food, drink and music.
Contact: Manitowish Waters Chamber, 715-543-8488 or www.solsticefestival.us